There is no known actual definition of the Gorilla Habituation Experience. However, it can simply be known as the act of training wild gorillas to become used to the sight of people.  It involves different groups of people like the trackers, conservationists, trackers, researchers and rangers among others who take a period of about 2 to 3 years completing this habituation experience. It is a learning experience that has just recently become a stable activity presented by the Uganda Wildlife Authority on a small scale. This experience only restricts the persons to a maximum of 4 each day, thus bookings for this kind of activity are to be done 6 months prior to the actual habituation day specifically during the months of December all through to March and July to October.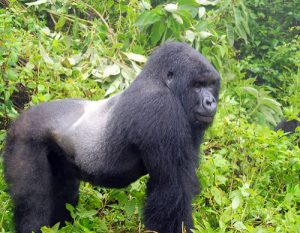 Unlike Gorilla trekking that limits ones interaction with the gorillas to only an hour, Gorilla Habituation allows a person 4 hours in the company of the gorillas. Also, one spends a little bit more -US$1500 for each person needing to do the Habituation experience dissimilar from the US$600 paid for gorilla tracking.
Since this kind of experience is hardly existent in Rwanda and or the Democratic Republic of Congo, one can only find it inside the Ugandan borders at the Bwindi Impenetrable Forest National Park. It is here that close to 11 habituated Uganda gorilla safaris groups that include Habinyanja, Rushegura and Mubare which are found at Buhoma, North of the park, at Rushaga in the South you will find Mishaya, Bweza, Nshonji, Kahungye, Busingye and the Nkuringo gorilla group. Far off in the East at Ruhija are the Oruzogo, Kyaguriro and Bitukura gorilla groups. However out of all these, only two groups at Nkuringo and Rushaga were set aside as the gorilla families available for habituation. During this process, the people get to understand the gorillas deeper and individually, know their behaviors and even get to the point of naming every single one of them. In the end, if the researchers are certain that the wild gorillas are okay with the presence of people, a mock exercise is done as a way of testing to prove their facts. When the gorillas pass this kind of exercise which now includes journalists and scientists, the gorilla group is then available for trekking.
The 4 Day Gorilla Habituation Experience.
Day 1:
You are transferred from the Entebbe International Airport and brought to Kampala City. You are then taken to your hotel to rest or take a trip around Kampala and visit places the Uganda Museum or head to the market to do some shopping.
Accommodation: The Kampala Sheraton Hotel, the Kampala Serena Hotel, Malakai Eco Lodge.
Day 2:
Early after you've had your breakfast, you are transferred from Kampala to the Bwindi Impenetrable Forest. There is not much you can see on this day but you may perhaps make a few stopovers and later in the evening after arrival go for a nature walk.
Accommodation: The Chameleon Hill Lodge, Mutanda Lake Resort.
Day 3:
After your breakfast head for Rushaga where you are to have your Gorilla Habituation Experience and also other activities that are optional. Later on, head back to your hotel for meals and relaxation.
Day 4:
You are transferred from Bwindi back to Kampala to catch your departure flight.
Items to carry.
Long comfortable shirts and trousers.
Insect repellent.
Sturdy gardening gloves and a hat.
Poncho/rain jacket.
Water proof backpack.
Snacks, lunch and enough drinking water.