What to wear for Gorilla Trekking in Uganda and Rwanda, Packing List
Gorilla trekking today, either in Uganda or Rwanda is perhaps East Africa's most popular tourist activity. And one of the mistakes most people have made is to go for gorilla trekking dressed inappropriately some wear sandals, shorts which are not the right clothes for such an activity.
The landscape of Bwindi Impenetrable (Uganda) is slightly different from that of Mgahinga (Uganda) and Volcanoes National Parks(Rwanda) but they are all located at higher elevations hence this makes them rainy, humid and cold especially in the nights.Truth is that while trekking you are not hiking on comfortable tracks, but sometimes there are no trails at all or you hike following very small trails.
Therefore as you plan your Gorilla safaris in either Uganda or Rwanda, this draws you to wear the right clothing to protect you from coldness, thorn pricks, nettles or insect bites such as flies and soldier ants.
"Pack right-Wear Right clothing". Below are our recommendations on "What to wear for Gorilla Trekking in Uganda and Rwanda".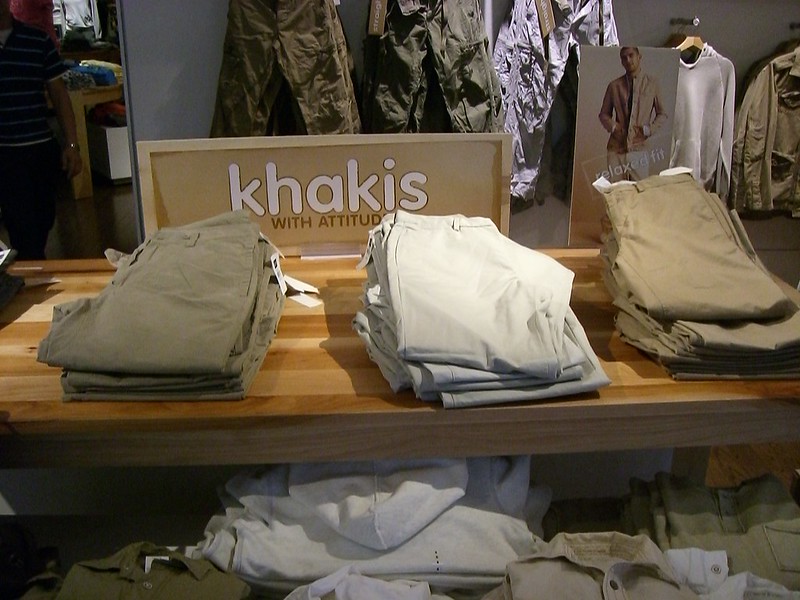 Wear Long Sleeved Shirts – Long Trousers
You need to wear a long sleeved shirt and Long trousers (can be either Khaki zip-up trousers or jeans) in fact if you can get waterproof trousers wear those. Both long trousers and long sleeved shirts protect you from branches, nettles, thorns or anything else that can prick/scratch you.
Cotton undergarments are recommended, also the ladies should ensure that they wear comfortable bras since the hike can be tough.
Some visitors ignore this advice and wear shorts and t-shirts, truth is by the end of the day the exposed skin has scratches, therefore ensure you follow this advice.
Wear Waterproof Hiking Sturdy Boots
The hiking trails can be slippery especially when it rains therefore a pair of waterproof hiking boots is required especially for gorilla safaris.  The shoes should be comfortable for you, in fact Rangers and Trekkers usually wear rubber boots or gumboots. Therefore you can't see any one wearing white snickers, sandals or any inappropriate footwear.
Hiking boots will give you good stability, balance, traction and support to your ankles, with these also wear good and thick socks. It is important to tuck your trousers into your socks, this sounds and may look unfashionable but it will protect you against fire ants.
Sturdy Gardening Gloves
This seems a joke, but it is right. These strong gardening gloves are going to be used in gorilla trekking not in gardening. They will help you support your selves on branches or vines, the gloves also give you protection against nettles such that you don't get scratched.
You can put them off when you meet the Gorillas in order to take good photos.
A Rain Jacket
Gorillasare trekked in the rainforest and usually in the morning hours, therefore rain might fall at any time whether it's a dry season or not, and therefore rain jacket should come handy.
A poncho can also be worn, most trackers, rangers and porters wear it. If you are carrying one, carry a light one which you can easily fold and kip in your bag pack until you need it the next time.
Wear a Hat
All you need is a good wide-brimmed hat on an expensive Tilley Hat, the hat protects your head and neck from rain or the sun. Onemight choose to wear a baseball cap but t will not protect your neck form the scotching sun after the mist in the mountains has disappeared.
Alternatively, if you don't come with the hat from home, you could buy one form any local craft markets in the country where you will be trekking gorillas from.
By the end of the trek you will be glad that you wore your hat.
Wear enough Insect Repellent
During the trek you come across different insects therefore wears a lot of insect repellent will protect you, also you can apply a sunblock cream on your exposed body parts.
For trackers who are on a Gorilla Habituation Experience, which takes a full days are advised to bring the repellent in their daypack.
A Warm Sweater
Someone might wonder, a sweater in Africa? Yes, and it is important that you carry one or a cardigan to be worn in the early mornings and cool nights. It really gets so cold at night. In Mgahinga Gorilla Park or Volcanoes National Park, the temperature is at10°C/50°F and in Bwindi Impenetrable it's at11°C/52°F and sometimesit's lower than this.
Therefore, this is why the luxury lodges here have fireplaces in cottages or rooms and other lodges give visitors hot water bottles for comfort throughout the cold night.
African Safari Clothes, What To Wear On Safari

Important Safari Clothing to Pack.
What is the right color for your safari clothes?
Bright colors should be avoided while carrying out safari activities in the jungle, but these can be used while enjoying a dinner back at the lodge. Neutral colors like light brown, green, Khaki are good for safari activities during the day and they are highly recommended all over Africa, in Kenya, Tanzania, Uganda, Rwanda, South Africa, Botswana and so much more. Black and blue shirts are not good in the jungle since they attract tsetse flies and other insects.
Below is a list of the necessary clothing to pack for an African safari to Uganda and Rwanda;
The long sleeved tops or Safari Shirts
These will help with protection from the insect attacks while carrying gorilla or chimpanzee treks, walking hikes, since they offer safety from direct cuts from the tree branches, thorns, vines as well as nettles.
Long trousers
Jeans are mostly recommended for most of the hikes and treks since they show less or no dirt and offer safety and protection during Jungle hours.
Shorts On Safari in Africa

These are mostly recommended to be won at the lodge and during day time when is the sun is much. They are not good for gorilla and chimpanzee hikes, volcanic hikes or nature walks since they expose the body to dangerous tree branches, vines and thorns. The shorts should be worn when an insect repellent has used on the body.
Safari Socks
These should be of cotton type or wool since they offer protection to the feet.
Under wear
These must be washed clean while on safari so it's advisable to buy some detergent in small quantities to be able to keep them clean.
African Safari Hat
This is a must carry and it should be a brimmed hat, you can easily buy one in Ugandan craft shops to be able to protect the face as well as the neck from direct sun light.
Safari Jacket

This should be light enough for your body to carry. This is recommended mainly because in most of the national parks where hiking and trekking takes place, rain is expected in the evening hours of the dry season, so these jackets can be of help especially during jungle time.
Swimming suits
These are mainly recommended for those who are to stay in up market hotels or lodge with swimming pools, Again there those clients who might be interested in swimming in our lakes like Lake Bunyonyi, Lake Kivu of Rwanda as well as Lake Mutanda.
Pajamas
These are so important especially if you are preparing to travel during a wet season since in places like Bwindi, the weather can be so cold especially during at Night.
Light sweater on Safari

This will help mostly during morning hours and evening hours in the Jungle
Outing clothes
These clothes help when back in the city and you have a few outings within the city. It can a dinner dress for ladies or a suit for the men.
Gorilla Trekking Packing List

These items below are so important for usage during your gorilla safaris in Uganda and Rwanda.
Citronella soap: this is so important since it both acts as soap and an insect repellent; this type of soap is also anti-bacterial to the body.
Insect repellent: The most frequent repellent that works on both mosquitoes and tsetse flies is RID. This can also be bought online and can be applied on with clothes.
Sun Blocker cream: this cream will help you protect your face and eyes from the hot sun of Equatorial Uganda.
Hand Wipes: these are handy items that help with preventing germs and can be bought here in Africa; they can help in situations where there is no water.
Sun glasses: These help with protection from the direct sun shine.
Malaria medicine: here consider the best tablets and malarone is always recommended as well as Doxycycline. These are considered effective on malaria treatments. This can be accompanied by a medicine bag containing all your medication to help you on your safari.
A pack of toiletries: these can contain many items depending on the sex of the tourists.
First Aid: this should be carried in case a tourist gets injured from the jungle.
Important safari gadgets and equipment's
These items below are the necessary gadgets and equipment's on any safari to Uganda and Rwanda. In case you are bringing a laptop, smart phones, and tablets, you must end ever to protect enough protection.
Camera and accompanying equipment's: End ever to carry a camera that is well equipped with its items as well as a lens cleaner to keep the camera lens clean.
Enough Batteries: Carry a complete set of chargeable batteries along with a good charger, these should be in your handy bag within the vehicle or car.
Binoculars: You are advisable to carry a pair of binoculars and these will depend on which activity you are to carry out like birding or game driving.
Camera Memory card : you are advisable to carry extra memory cards for the cameras if you are to take many photos in the jungle
Journals: these can be brought along to write down some unique experiences within the places visited.
Flash Light. Bring this along to help you take photos even in the dark like during night game drives.
Electric Items are also recommended
Note:
In Rwanda, plastic bags are not allowed and you will be charged for dropping them around. Uganda is also against plastic bags though they are still in Use. In case you have space left in your luggage, end ever to carry some souvenirs like balls, children books, t-shirts to give away to the nationals while on your safari.
Light bags are right for an African safari and always remember to carry specific day packs to engage in nature walks, chimpanzee treks and the mountain gorilla treks. The heavy bulky bags or suit cases are a discomfort and will make your safari difficult especially with carrying the bags to the safari cars and to the lodges.
Always an activity will determine which gadgets a traveler will need to pack and this will help in avoiding unnecessary packaging which is done by most of the tourists. Different safari  activities like Hiking, gorilla and chimpanzee treks, mountain climbing bicycling and volcanic hiking require different safari gadgets and so tourists should take time and know exactly which activities they are to engage in.
The weather of the place to be visited should be considered before packing the right gadgets to use. For example in Uganda and Rwanda, there are some rainy and dry seasons , so it's important to do some research and find out when is the rainy or dry season in these two countries. Most of the accommodation facilities in Rwanda and Uganda provide detergents like bathing soap and shampoo; however, tourists are advisable to always carry at least a bar of soap to help with washing personal items. The tourists are also advisable to always put their valuables like the Binoculars, money, cameras, phones, iPods in their carry-on bags to avoid being displaced in the Jungle.
Below is a list of all the important gadgets to be packed on any African safari to Uganda or Rwanda
Luggage safari Bag
With the luggage safari bag, Mobility is the key factor since movement becomes easy when the safari bag is light for the clients. It's mostly advisable to use suit cases with key combinations instead of those with keys since it's so easy to lose the keys within the Jungle. Most tour operator's advice that clients use duffel safari bags since these can easily be stored and also give added value mobility on an African safari.
A handy day pack
This should be of waterproof since the weather can change anytime while in the jungle. This mainly helps the clients to carry some personal items that they need while in the jungle and it's the main reason why it comes in handy. These can be used to carry important documents, drinking water, snacks during the game drives, hikes, nature walks, and chimpanzee & gorilla treks.
The money belt or Bag
The money bags are mainly recommended for the clients since these help with safety for money, it's advisable that they are made of cotton so as to be able to be carried near the body to avoid sweating. It's also necessary to wear it fast and then a safari cloth put on top to provide more protection to the cash, once it's put on top of clothes; it leaves you vulnerable to thrifty. The important documents to be put in this money bag should include; a passport or a copy of it, phone numbers (emergency), as well as the international immunization card.
Safari Boots/ shoes/Saddles
These should be comfortable for you and they should either be black or Blue since these colors show less dirt. White colored shoes are good but not fit for a jungle safari in Uganda and Rwanda. The boots to be used for hikes and treks should be comfortable to ease walking. These should also be light enough to provide traction and protection when needed. See more about safari shoes. For town usage, one pair of shoes will be needed for any appropriate occasion. More so comfortable saddles near the lodge are of good use. The flip flops are commonly used around the swimming pool and extra shoes races are of an advantage.
Finding the right clothes for your gorilla safari to Uganda and Rwanda is not always hard, but equally important. Remember this is Africa and the mountain gorillas live the Bwindi Forest or the Volcanoes in Rwanda where the weather is very unpredictable! It almost rains every now and then. So you can imagine the steep and often slippery hills…you get the idea!
 T-shirt on Gorilla Tour
Yes a t-shirt for gorilla trekking is quite handy as it can quickly dry up just in case of rain.A denim shirt should be ok, or something long enough to cover your arms from the wild plants and anticipated bush thorns. Remember you wake up early to the mist or morning chill, insects and so you need to have your arms covered.
 Rain Jacket On A Gorilla Safari
A Rain Jacket or fleece should be on your top priority! it rains almost all the time here in Bwindi and Volcanoes National Park. I have seen some tourists come up with a cheap poncho…very useful. Please consider carrying a light weight jacket here.
 Long Pants or Trousers On A Rwanda / Uganda Gorilla Trek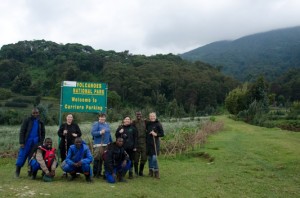 You have read it clear, long pants!! Short pants is a no in this area! We do not recommend jeans since everything here gets wet!! am sure you wouldn't love those bulky tiring wet jeans as you look out for the gorillas. The quick dry pants are the BEST! you will have guaranteed protection from branches, nettles and the thorns.
 What Shoes to Put On While on A Track
We recommend boots for foot wear, since you need to cover above the ankle. There are some deep mud as you trek in the impenetrable forests. In Uganda or Rwanda, you can ask for knee-high rubber wellies, called gum boots. Hiking boots are good for the steep terrain sometimes full of vines depending on the gorilla family which you are visiting. Even the gorilla rangers in Uganda and Rwanda will be covered in rubber boots, locally called the gum boots..so do not think about the sandals, cool white sneakers or trendy shoes, they just wont survive the forest my friend! Take note that the boots should be light weight for the sake of stability on the steep hills as well as support and traction. Please note that when you do not put on the recommended shoes, its easy to hurt yourself by sliding all over.
Socks To Put On
Anything woolen is cool.
Covering Hands
Usually building gloves are the best..you can as well try the gardening gloves particulary made of cotton. Please note that these must be padded on the fingers and palms, sometimes you have to cling unto those wet vines!
Summary of Packing List
Lightweight raincoat
Hiking boots
Cap/hat
Sweater (chilly evenings)
Camera (no flash)
Waterproof plastic bag (to wrap your camera and film in)
Putting on the right clothing to see the mountain gorillas of Uganda and Rwanda is always necessary if you are to have the maximum fun while visiting the gorillas. Most tourists usually do not care about the clothes they put on but since you are lucky to have read this information, you should be well equipped to have the gorilla trekking experience in Africa.
What Are Your Thoughts?
Everybody has their opinion about the gorilla tracking experience. We would like to know what you put on during this amazing adventure. What do you recommend?