MADAGASCAR TOURS.
MADAGSCAR.
Madagascar formerly known as Malagasy Republic is an island country in the Indian Ocean located away from Africa's southeast coast. It is 570 km wide and 1600 km long and is regarded as the fourth largest island in the world. Most ecologists refer to Madagascar as the 'eighth continent' and it is said to have freely broken off Africa around 65 million years ago; it lies in the Indian Ocean and is separated from Africa by the Mozambique Channel. Madagascar has two seasons; the cooler, dry season (from May-October) and the hot, rainy (from November-April). The climate is unique and is mainly comprised of the southeast trade winds which blow from the Indian Ocean anticyclone. Find all Madagascar tours and vacation holidays in Africa.
Madagascar's topography varies as it is classified into five geographical regions and they include; the west coast, the east coast, the southwest coast, the central highlands and the Tsaratanana Massif. Madagascar is a member of the African Union and its capital and largest city of Madagascar is called Antananarivo, the country's population is 24.89 million people (2016 World Bank) and the languages mainly spoken in Madagascar are Malagasy and French.
Madagascar is home to very many species of animals including the ring-tailed lemur (over 103 living species and sub species) which is only found here. In other words, 90% of the animals are unique to Madagascar they are not found anywhere else. The country is endowed also with beaches, beautiful rain forests and reefs (also the 3rd largest coral reef is found here) which find their home on this island. Another unique thing about Madagascar is the 'Avenue of the Baobabs' where there are huge old trees lined along the dirt road. Below are the main attractions and what to do while in Madagascar.
WHAT TO SEE AND DO.
Antananarivo
Antananarivo is the largest and Capital city in Madagascar, it was previously called the French Tananarive- it is the main entry point to Madagascar. Antananarivo is among the most exciting cities in Africa; while here tourists discover and take pleasure in cultural sites like the different churches and palaces all over the city, architectural, and rich historical sites. The city is classified into three places and in these places different attractions are found; the old city in upper town also known as "Haute Ville" in here you find various cathedrals, old residential areas, and palaces such as the ancient prime minister Rainilaiarivony place, Queen's palace, the ancient Justice palace, and the pink baroque Andafiavaratra Palace which is near Haute Ville, another is the intermediate level which also known as the Plateau du Colbert, and lastly the down town level also known as the ancient swamp.
Antananarivo has more other attractions to offer that cannot miss out on the visitors itinerary such as the Rova of Antananarivo palace complex (has royal toms and wooden houses), visit the Avenue de l'Independence, Tsimbazaza Zoo house and see animals, Lake Anosy surrounded by the Jacaranda trees, visit the museum with the extinct skeleton of the elephant bird the market, lemur's park, among other places. Birders can also have a great time by visiting the Parc de Tsarasaotra wetlands which harbor different rare bird species. Together all these attractions give Antananarivo nice scenery and lots to offer to the visitors. Antananarivo can be accessed by road for those already in the country and by air at the Ivato Airport (TNR) by those flying into the country. There are enough accommodation facilities in Antananarivo that are affordable, classic and comfortable. Create unforgettable memories today as you visit Antananarivo!
Nosy Be
Nosy Be is situated about 8km  away from the northwestern coast of Madagascar, the word Nosy Be means 'Big Island' in Malagasy language and the main town here is Andoany. This island covers an area of about 320.02 sq km; Nosy Be has been given different names over the years where by it was once called Assada. The climate on this island is tropical and during summer it is humid in months December, January and February.
Nosy Be is Madagascar's busiest and largest tourist resort/spot, it receives many tourists due to its great climate and location hence making it a great place for hiking & trekking holidays in Madagascar. Nosy Be has various things to offer starting with the beaches where one can swim, relax and chill, the Nosy Sakatia island here there is an opportunity to swim with the turtles, this is an amazing experience, Mount Passont this also provides good panoramic views of the island and nearby places, also there it is a great spot for sunset viewing. Other activities that can be done include cultural tours around villages, scuba diving and snorkeling and also a visit to the Lokobe nature reserve here you get a chance of seeing lemurs, panther chameleons among others. There are various beach restaurants that serve food, drinks and beverages, and also accommodation activities are there and mainly used are Sakatia lodge, Le zahir lodge and many more.
Nosy Boraha/ Ile Sainte Marie
Its name currently is Nosy Boraha though it is still known as Ile Sainte Marie to most tourists. It is an island situated 8 km east coast of Madagascar, it covers an area of 222 sq km and the major town on this island is Ambodifotatra. It is among the top tourist attractions in Madagascar, there are various beaches that are endowed with luscious vegetation, beautiful coconut palms, bays and coves that are surrounded by coral reefs and numerous villages that one can explore and discover lots of things. While here you experience the freshness of the atmosphere, enjoy different views from the landscapes and also see humpback whales that migrate during the early fall and winter; this is an amazing experience.
The island is home to Ambodena forest which harbors geckos, lemurs (mouse lemurs, white fronted brown lemurs etc), chameleons, and frogs. Activities done in Nosy Boraha include; cycling, visiting villages, snorkeling, diving, canoeing, and swimming in the beaches and turquoise lagoon (it is not easy to swim in there). The climatic conditions on the island are more favorable from September to December though rainfall can be expected any time in the year. There are a number of service providers at the island such as restaurants and hotels; they are well developed.
Tsingy de Bemaraha
Tsingy de Bemaraha is among the newest parks in Madagascar, the word 'tsing' is in Malagasy language and it means 'walking on tiptoes'. The park is a UNESCO World Heritage Site and was opened in 1998; it covers an area of 1,575 sq km. It is found in the southern part of Madagascar in a remote place and far from Antananarivo, being far does not take away the fact that when you reach there you won't have a memorable experience. It is famously known for the sharp limestone pinnacles that are approximately 150 ft tall. There are many things to see while here such as the beautiful and rich vegetation, gorges, waterfalls, canyons (the amazing Manabola river canyon), and the seven species of Lemurs like the Red-fronted brown lemurs and the Decken's sifaka.
This  Madagascar Tours Park is home to different mammals like ring-tailed mongoose, over 100 bird species such as Madagascar wood-rail, Crested Ibis and the endangered Madagascar fish-eagle, about 45 reptiles and frogs among others. The park is accessed by road which is difficult as much time is spent while crossing the river (it is also an experience of its own), also one can reach the park by using charter flights. There are ready local English speaking guides available; accommodation is also comfortable and affordable as there are three camping sites; restaurants also serve very nice food.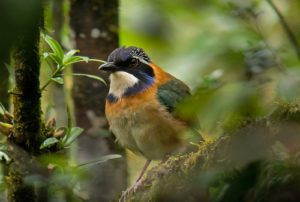 Tsiribihina River
Tsiribihina River is found in the West of Madagascar; it is surrounded by mangroves and makes its way through Tsingy de Bemaraha National Park. A boat or canoe cruise along the river is something you will never forget as you get chance to chill and relax as you see beautiful landscapes, wildlife and various species of birds. So this canoe can be an added experience on your trip to the Tsingy de Bemaraha National Park.
Ranomafana National Park
Ranomafana National Park is among Madagascar's renowned National Parks and apart of the UNESCO World Heritage Sites. It is situated in Ranomafana village in the southeastern part of Madagascar and was formed in 1991. The park is home to different lemur species including the Golden bamboo lemur that was discovered in 1986 and also it is endowed with a rain forest covering over 41,600 hectares where these species live. Ranomafana National Park has very beautiful scenic views especially in the Eastern section such as the various streams of water that flow through the hills and forests. Mainly golden bamboo lemurs are found here which feed on bamboo shoots, and keep in mind that many more animals, birds and landscapes can be seen when you go to more distant places in this park.
Ranomafana National Park can be accessed by road and also there are no worries of where to stay while in the park as there are many lodging facilities and affordable ones.
Avenue of the Baobabs
The Avenue of the Baobabs is a very beautiful and wonderful landscape comprised of many trees line up along a dirt road in the Western part of Madagascar in Menabe region. This Avenue or Alley draws tourists all over the world to come have a great time with this amazing nature. These Baobab trees have been in existence for over 800 years and about 20-25 trees are remaining, and others grow in the meadows, sugarcane plantations and rice paddies of which they can be cut any time die to the encroachment of farmers around since it is not a national park. These trees are more like the remainder of the dense forests that existed many years ago in Madagascar of which many of them where cut for agriculture.
The Avenue of Baobab trees also has the popular Baobab Amoureux which is located a few kilometers, these are two Adansoniza trees twisted together, the local story behind this twist is amazing and is something you wouldn't want to miss out. This place is accessed by road and the best time to visit is between February and March since it's when they flower, it's a good time here so you can take as many photos as you want but if you are to take photos of people inquire from them before you do so since just taking photos of them is rude to them, so keep that in mind. Lodging options are available and affordable near this area. Visit the Avenue of Baobabs today!
Isalo National Park
Isalo National Park is located in Ihorombe in the central southern region of Madagascar; it was formed in 1962 and since 1997 is has been managed by the Madagascar National Parks Authority.
Isalo is famously well-known for its beautiful landscape that is comprised of the open grasslands, palm-lined oases, deep canyons, fire-resistant tapia forests and sand stones; it is also where to around seven species of Lemurs such as the ring-tailed lemurs. Isalo National Park is home to over 33 reptile species, 82 bird species like the Knob-billed duck and the Madagascar Ibis, 14 mammal species and 15 species of frogs.
Treks in Isalo National Park can go for hours to days to weeks based on what you want and it is advisable to have local guide familiar with the park in order to enjoy your tour. Isalo also receives seasonal rainfall with tropical dry climate. Other activities one can do while here are visiting the natural swimming pools and having cultural tours whereby you can visit the nearby communities especially the Bara people that have lived here for centuries.
Andasibe- Mantadia National Park
Andasibe- Mantadia National Park is located approximately 150 km east of Antananarivo. Andasibe National Park is Madagascar's easily accessed park since it is not far from the country's capital, Antananarivo. It covers an area of 155 sq km and lies between altitudes 900m-1250m. The climate in this area is cool and wet and the average temperature is 18°C. The park is divided into two parts; the Analamazaotra Reserve where the Indri which is the largest Lemur is found and the Mantadia National Park.
Andasibe National Park being a rain forest harbors various endangered and endemic species such as around 11 species of Lemurs and different species of reptiles, frogs, birds, batrachians and insects. Also different plants are found here like the orchids, ferns, dwarf palm trees, and scared creepers which give the park good scenery.
Accessibility to this park is easy, like it was said earlier; it takes around 3-4hours to drive to the park from the capital, a local guide is recommended for the visitors entering the park and also various hotels are available near the park entrance.
Royal Hill of Ambohimanga
Royal Hill of Ambohimanga is a UNESCO World Heritage Site. This royal hill is situated in the Northeast of Madagascar about 25 km away from Antananarivo; the word Ambohimanga means "Blue Hill". This hill is considered a sacred place by Malagasy people- it is where the Madagascar royalty used to stay. The wall around the hill was constructed around 1847; there is a lot to see in this place such as the former King's home, art and crafts like weapons, talismas and drums, among other things.
Ifaty
Ifaty is an area that consists two fishing villages named Madio Rano and Mangily, they are located on the southwestern coast of Madagascar. This is an ideal place to visit since it has beaches where one can relax and chill, other activities done here are snorkeling, diving, and fishing. It is a great time to spend at Ifaty. There is a set of bungalow accommodation facilities that one can spend a night at.
Masoala National Park
Masoala National Park is governed by Madagascar National Parks Association and was established in 1997. It is located in the northeastern part of Madagascar in Sava region, and covers 100 sq km of marine parks and 2,300 sq km of the rainforest. Over ten species of lemur can be found in this National park; the park harbors a variety reptile species, bird species like the helmet vanga, the tomato frog and the red owl cannot be missed out also. The marine parks here provide activities such as snorkeling and kayaking. Also while at Masoala there is an opportunity to observe the Madagascar serpent-eagle and the spectacular day-flying sunset moth
Best time to travel to Madagascar?
The best time to visit Madagascar for a tour holiday is from fall to spring (from May to October) when it is generally dry and cool and very conducive. Visiting from start of July not only rewards you with very good weather but also gives you a change to watch whales. During this time also known as the peak tourist season, the number of tourists in the country is very high and tours are generally expensive and so its not a recommended time to visit for budget travelers. Nonetheless it is also worth mentioning that the best time to visit Madagascar will also be determined by what you what to do on your holiday.
| | | |
| --- | --- | --- |
| Activity | Best time to visit | Where to go |
| kayaking in Madagascar | May to December | South Eastern Madagascar |
| humpback whale watching in Madagascar | July to September | Ile Sainte Marie |
| beach Holiday in Madagascar | September to early December | The coastal area |
| see lemurs in Madagascar | from June to December (October and November for seeing baby lemurs) | |
Budget travelers visiting Madagascar are advised to do so during the off peak safari season when there are fewer tourists in the national parks and on the beaches and many of the accommodations are offering discounted rates. The best recommended month is April. On the other hand, from December to March this island country is experiencing the cyclone season and it's a season that should be avoided by holidaymakers.
Where to stay in Madagascar – Accommodation
When compared to other tourist destinations on the mainland, Madagascar is not as highly priced in terms of accommodation. Most of the luxury lodges found in the remote areas are owned and run by tour operators and these will reward you with a very comfortable and lavish holiday experience however, there are also more affordable accommodation options including mid-range facilities and budget facilities.
Below are some of the popular accommodations in Madagascar
Super-Luxury Accommodation: these are top-not accommodation facilities that offer equally exclusive facilities that will definitely spoil you on your holiday. These include: Princesse Bora Lodge & Spa, Time + Tide Miavana, Anjajavy L'Hotel and Constance Tsarabanjina
Luxury Accommodation: these are high standard facilities that offer a range of facilities that will offer you a remarkable 'home-away from home' experience. These include: Mandrare River Camp,, Hotel Vanila, Le Jardin du Roy and Manafiafy Beach & Rainforest Lodge
Mid-range accommodation: these moderately priced places to stay offer standard accommodation with moderate level of comfort as well as reasonable facilities. They include: Betsileo Country Lodge, Andasibe Hotel, Couleur Café, Croix du Sud, Kaleta, Masoala Forest Lodge, Setam Lodge, Le Paradisier, Pavillon de l'Emyrne, ,Nature Lodge Vakona Forest Lodge and Jardin Vanille
Budget facilities: these are simple but very clean although the offer limited facilities. They include: Centrest Sejour, Eulophélia, La' residence Camelia and Boraha Village.