By Road
Bwindi forest can be accessed from Queen Elizabeth National Park to the northern just 2 to 3 hours drive, from Kampala through Mbarara about 6 to 8 hours drive or from Kabale town to the southern just 1 to 2 hours. These roads then converge at Butogota, just 17 kilometers from the Buhoma entrance-gate. A 4×4 vehicle is needed through the rainy months. A daily bus service leaves Kampala for Butogota via Rukungiri and Kihiihi.  We recommend booking your gorilla trekking safari with a recognized tour operator.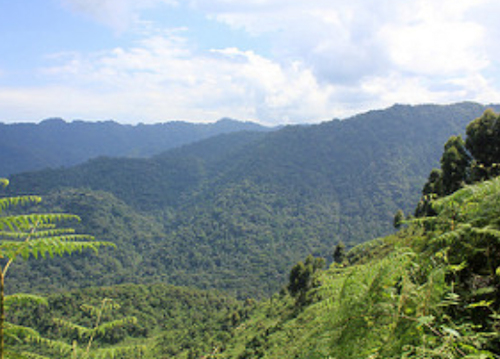 By Air
Travelers can choose to fly from Entebbe or from Kampala at Kajansi airfield to the up to date tarmac airstrip found at Kisoro. Additionally Planes may as well be chartered to the Savannah or the grass Kayonza airstrips.
Bwindi is actually well served by 3 airfields at Kihiihi plus Kayonza for the northern area in addition to Nyakabande found in Kisoro for people going to track mountain gorillas within the southern area (Mishaya, Nshongi plus Nkuringo).
Bwindi is located in the south-western part of Uganda with approximately 7 h 35 min (463.7 Km) via Masaka Road. from Kampala .The easiest means of transport to Bwindi is by road.
Queen Elizabeth national Park (Mweya)- Kihihi-Buhoma
On your way to the park, you will pass through Ishasha and you will enjoy seeing the climbing lions along with monkeys on the road.Bwindi covers an area of about160km from Mweya and about 64km from Ishasha.
Kampala-Kabale-Kanungu-Buhoma.
The route has a tarmac highway to kabala and covers an area of about 414 km and it's a 5-6 hour's drive. The next route has a murram road and has about 120km. the route goes through Kanungu as well as Kanyantorogo and it takes about 4-5hours.The most convenient vehicle is A4WD.
Kampala- Ntungamo-Rukungiri-Kihihi-Buhoma.
The easiest and most convenient route is from Kampala direct to the tarmac road Rukungiri and has about 390km in addition to murram road to Buhoma.
Kampala-Kabale-Ruhija-Buhoma.
This route covers an area of about 95km2 on the murram road and its takes about 3-4hrs.The only vehicle that can pass through Ruhija  is a 4WD.
Kampala-Kabale-Nkuringo.
It covers a distance of about 105kms from Kabale town and it takes about 4 hours to get to the mountainous murram road. Many tourists take up nights in Kisoro town and the remaining distance is about 80km from Kabale prior to Nkuringo.Kisoro road is a meandering 35km and takes about 1-1.5 hours. The most suitable car for this area is the 4WD.
By means of public transport, a bus set on everyday from Kampala to Butogota.Thereafter a tax can be got the last 17km to Buhoma.Nkuringo has no public means and the best thing to do is to hire a vehicle from Kisoro.
Another means   of transport can be by Air; Tourits can fly from kajjansi airfield or Entebbe and land off from Kisoro airstrip. Those who may want to visit Buhoma may take on the charter planes and land off from Kayonza airstrip.
Bwindi National Park  a home to tremendous biodiversity because of two factors. First of all, its slopes stretch over a broad altitudinalrange of 1447 meter to create habitats roaming from lowland forest at 1160m to unique Afromontane vegetation above 2600m. This explains why Uganda gorilla safaris require some level of physical fitness.
Second, it is extremely old. since most of Africa's forests were destroyed during the arid conditions of the final ice age(12,000-18,000 years ago), Bwindi was among a few 'refugia' that remained.
As a result, as most of nowadays forests are not further than 12,000 years old, Bwindi's vegetation has been weaving itself into tangles over 25,000 years, in the process accumulating an extensive species list. This consist of 310 species ofbutterfly,  200 trees, 88 moths,51 reptiles, and a tremendous 120 varieties of mammal including 10 primates. The latter are red tailed, chimpanzee, L'Hoest's and blue monkey, black & white colobus, baboon, as well as Bwindi's most famous resident,
the mountain gorilla.
Bwindi is a prime location for birdwatchers. Its 350 bird species including 7 which are IUCN red data listed & 90% of all
Albertine rift endemics species that are hard or impossible to see in some other part of East Africa especially on Tanzania safari holidays. A more experienced bird
watcher can simply identify up to 100 species in a single day!
Local people
The local people near the park are mos' and Bafumbira. Minor Batwa communities are(Pygmy!) also present. The Bwindi area holds up one of the rural population densities in Uganda with a number of 350 people.
Getting Around
the diverse trailheads of Bwindi can be accessed by vehicle. But there aren't any roads inside the park itself that is traveled around on foot. The Bwindi is appropriately named as 'impenetrable forest'; the paths go through thick vegetation and may be steep. Make use of walking sticks provided at the beginning of the walk.
Climate and best time to Visit
Bwindi is cold in the mornings and in the nights with moderate temperatures between 7⁰C and 20⁰C. Actually the coldest time in Bwindi is from June to July, while the wet seasons starts in March to May as well as from September to November experiencing a total annual rainfall of 2390mm. the Rains received in March to May are actually short. September to November receives heavier although these are long hours of gentle drizzles.
Accommodation
There is a variety of accommodation places to stay basing on which gorilla group you to track.
Bwindi Impenetrable Forest Reserve was set up in 1942 and later on renovated to Bwindi Impenetrable National Park in 1992.In 1994, it was acknowledged as the world Heritage site. Rukiga is a language commonly spoke in this area and the word Bwindi in realty means Impenetrable. What makes Bwindi Impenetrable is the fact that it covers an area of about 327km2 of scrambled vegetation draped over an intensive landscape of the steep, haughty ridges as well as the slippery valleys and high. The terrain may be hard for you to manage but remember it's what makes Africa an exciting continent. The park has a big population of gorillas. Bwindi is well known to be very cold in the morning and at night. The coolest months are usually June and July and the average temperature is about 70c-200c.When it concerns what to pack for gorilla safaris please pack warm clothes because Bwindi is so cold and receives about 2390mm of rain. It has two rain seasons, little rains are in the months of March-May and heavy rains are in the months of September as well as November.The rain in Bwindi takes long hours to stop.